A STEM Women success story from Melina Georgousakis
Dr Melina Georgousakis is the founder of Franklin Women, a professional community dedicated to supporting the careers of women working across the health and medical research ecosystem. We had a chat to Melina about her STEM journey, and a recent opportunity with the Australian Embassy to Chile.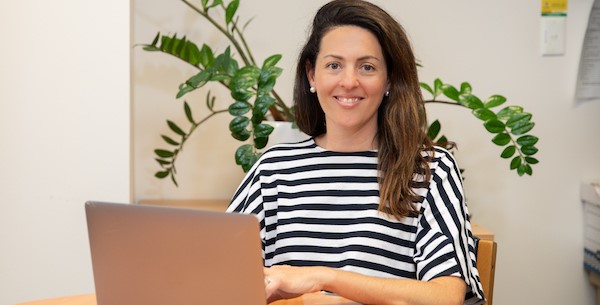 What drew you into the world of STEM?
I was always a very curious child but it was definitely in high school when I really got the calling! I was very lucky to have three different but passionate high school science teachers who each left their mark on me. When it came to choosing my University degree there really wasn't any other option for me than a Bachelor of Science. I have been finding my place in the STEM sector ever since.
You founded Franklin Women to support women working in the health and medical research ecosystem - why is this particular arena an important area of focus for you?
Franklin Women is a social enterprise which aims to create a health and medical research ecosystem where women thrive! I started the organisation when I was an early career researcher to create the support network and professional development opportunities that I needed in my own career. It was especially important to me as I started FW at a time when I was starting to notice unique barriers that myself and my colleagues who were also women were facing. I am in awe of the amazing women I have met through FW and the contributions they are making to health - it is so important that we invest in keeping their skills in the sector. Franklin Women has been welcomed into such a committed network of organisations, like the Academy of Science, all driving change towards a more diverse and inclusive science sector across Australia. There is not going to be a single activity that will change culture, rather the combined efforts of many.
You recently had an exciting international opportunity come about via your STEM Women network membership - can you tell us more about it?
Yes! I signed up to the STEM Women database as soon as it was launched and was thrilled when I heard stories of how it was being used - from journalists finding women for their stories to new research collaborations. The other month I received an email from a representative of the Australian Embassy to Chile saying they found me through STEM Women, and would like to invite me to take part in a virtual IWD event. There are a number of aligned priorities between the two countries and one is gender equity in STEM. I spoke about the experiences of women in our sector particularly during COVID and why it is more important now than ever before to keep striving towards closing gender gaps in our sector. If we don't, the risk is we move backwards. They also had a Chilean speaker talk about the experience of women in Chile.
You'll also be joining us at one of our upcoming STEM Women Café conversations on mentoring - what are some of the issues you're hoping will come up in discussion with the participants?
Mentoring has been something I try to talk often about as I have seen first hand through Franklin Women, but also my own career, what a difference a mentor (or a sponsor) can have on your career.
In the Café conversation I hope to share a few of these stories to inspire listeners to get the courage to ask someone to be their mentor, and similarly, mentor someone else around you - paying it forward is possible no matter where you are in your career. It can be small acts of mentorship or sponsorship that have the biggest impact.
Finally, what would be your advice to women and girls considering a career in STEM?
STEM skills are the skills of the future - it is time to re-imagine what a career in science looks like. You can use scientific training in so many industries, the possibilities are endless. The fun part is exploring which one is for you!
Cover photo by Jason Dent on Unsplash