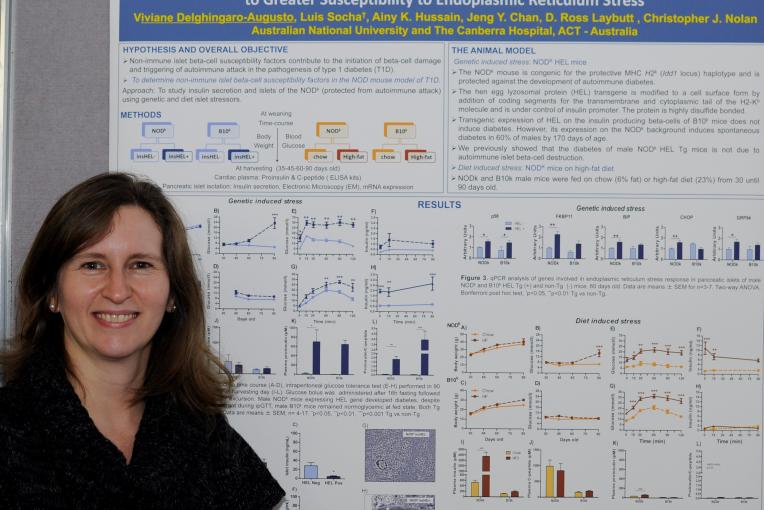 Viviane Delghingaro-Augusto
Research Fellow
Australian National University

Canberra, ACT
Contact
Contact me for
Mentoring
Sitting on boards or committees
Providing an expert opinion
Outreach activities
Conference presenting
Opportunities to collaborate
Biography
I obtained my PhD in Functional and Molecular Biology at University of Campinas, São Paulo, Brazil. I received further training as an islet β-cell biologist in the laboratories of Prof Prentki (Post-doctoral Scientist, Montreal Diabetes Research Centre, Canada) and Prof Nolan (Australian National University, Australia) and recently have joined Prof Parish laboratory.
My research mainly focused on the biochemical and molecular mechanisms involved in the failure of the islet b-cell in the pathogenesis of Type 2 Diabetes. In my first postdoctoral position I performed key experiments in pancreatic islets of several rodent models and pancreatic β-cell lines resulting in the discovery of the islet β-cell glycerolipid/free fatty acid cycle, an essential component of the lipid amplification pathway of glucose-stimulated insulin secretion. Since in Canberra in my second post-doctoral position, I contributed with extensive experimental data to a major publication (equal first author) in Nature Genetic, describing the existence of pancreatic β-cell fragility in Type 1 and Type 2 diabetes mice models. I also completed extensive experimental work investigating the role of islet β-cell hypersecretion and failure in the pathogenesis of non-alcoholic steatohepatitis and diabetes. My extensive research training provided me with highly specialized skills in islet β-cell research, including metabolic physiology assessments in rodent models, in vivo and in vitro insulin secretion and islet metabolism, islet histopathological examination, beta-cell mass quantification, beta-cell transmission electron microscopy analysis, gene expression analysis (various techniques, including high-throughput platforms). More recently, I have been investigating the effects of extracellular histones on cellular metabolism and their control by small polyanions therapy.
---
Viviane identifies as culturally and linguistically diverse.