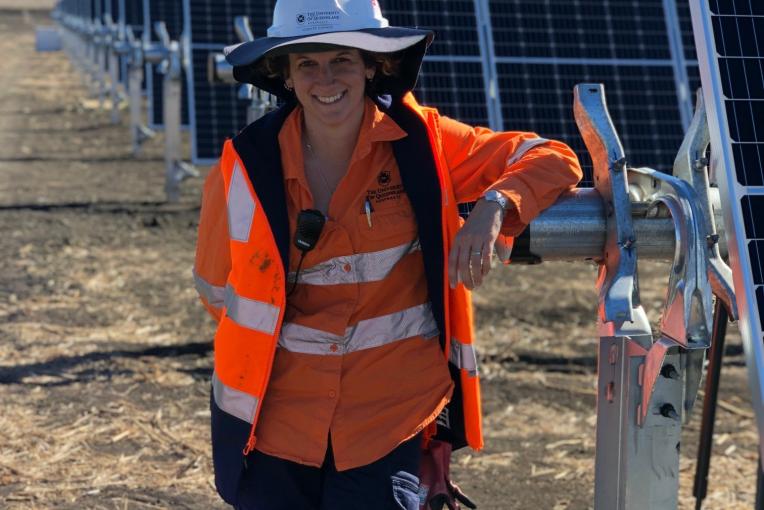 Sarah Haskmann
Project Officer - Energy Management
University of Queensland

Brisbane, QLD
Contact
Contact me for
Mentoring
Sitting on boards or committees
Providing an expert opinion
Outreach activities
Conference presenting
Opportunities to collaborate
Biography
I recently worked on the construction one of Australia's largest utility-scale solar farms (110MWac) in Dalby, QLD. For the foreseeable near future I look forward overseeing the design, construction and operation of the 64MWac, single-axis tracking, Warwick Solar Farm on behalf of University of Queensland. This project will see the university become the first in the world to offset its electricity usage 100% by renewable energy. I will also oversee the continued management of the 3.25MW solar research facility in Gatton, QLD.

Some background context, I am a renewable energy and sustainability power engineer, having graduated from a hybrid stream of electrical/power engineering that is focused on energy sustainability and renewable energy generation. In addition to the core electrical engineering units, the degree includes units on renewable power generation techniques, energy efficiency and sustainability, power and transmission engineering, environmental engineering and electronics.

My ideal longer-term future career goal (the reason I chose to become an engineer) is to try and help make a difference and contribute in tackling complex issues like climate change (mitigation and adaptation). Personally, I am interested sustainability initiatives partnered with technical design to maximise passive as well as technical solutions, especially with energy use. For me, without ignoring my background in humanities studies, corporate involvement and policy development interests, that means I wish to be the mediator between the technical and non-technical spheres. This is especially in the context of policy advice and development in the renewable energy, sustainability, energy efficiency and energy security realms.
---
Sarah identifies as lgbtqia+.