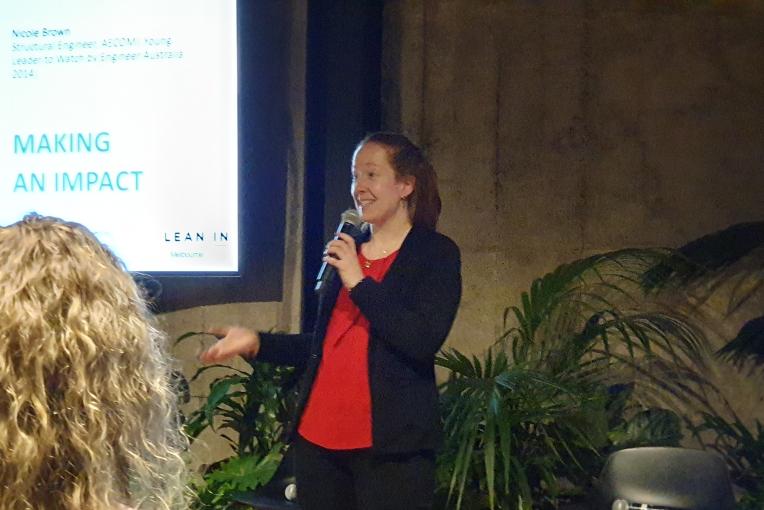 Nicole Brown
Structural Engineer
AECOM
Australian Delegate
Young Engineers/Future Leaders - WFEO
National Committee Member
Young Engineers Australia

Melbourne, VIC
Contact
Contact me for
Mentoring
Sitting on boards or committees
Outreach activities
Conference presenting
Opportunities to collaborate
Biography
Nicole is a graduate of the University of Melbourne having completed a Bachelor of Science and a Master of Engineering (structural) degree; currently working as an Engineer at AECOM.

Nicole is an active volunteer in the community. She currently works with Engineers Australia at a state and national level, is the Australian Delegate on the Future Engineers/Young Leaders board for the World Federation of Engineering Organisations, is a committee member of the inaugural Women in Engineering and IT Alumni Network at the University of Melbourne and is a mentor for current students at the university.
In the past, Nicole held the position of the CEO of Robogals Global from January 2013 to December 2016 and Chair of the Queens Young Leaders Programme, a program by the Royal Trust, Comic Relief and Cambridge University.
In 2017, Nicole was selected as the Chair for the QYL Legacy Panel after holding the position of Records Officer in 2016 where she represented the Alumni of the QYL in June 2016 at the University of Cambridge to provide mentoring and professional development for young leaders in the Commonwealth. Nicole continued this support in 2018 as a peer support leader for the residential program in Cambridge and London. 
In 2015, Nicole was named as one the first Queens Young Leaders (QYL) Highly Commended Runners Up. One of only 128 in the world (winners and runners up). http://www.queensyoungleaders.com/

In 2014, Nicole was named a 'Young Leader to Watch'​ by Engineers Australia at their inaugural Convention: http://www.convention2014.org.au/conferences-and-events/leadership-conference/young-leaders-watch