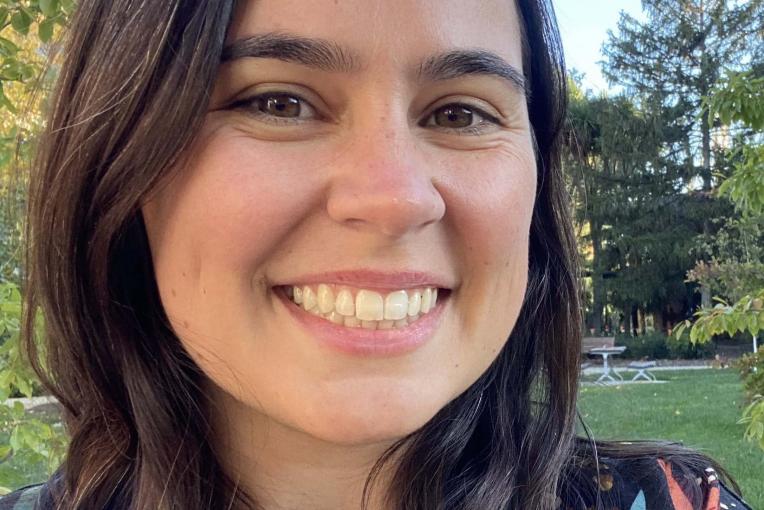 Jessica Fenker
Atlas of Living Australia
CSIRO
Associated Researcher
Australian National University

Canberra, ACT
Contact
Contact me for
Mentoring
Sitting on boards or committees
Providing an expert opinion
Outreach activities
Conference presenting
Opportunities to collaborate
Biography
I am currently working at the Atlas of Living Australia (CSIRO), a collaborative, digital, open infrastructure that pulls together Australian biodiversity data from multiple sources, making it accessible and reusable. I work in partnership with EcoCommons, a platform for digital modelling and analysis needs on ecological and environmental research, currently in construction.
I am associated with the Australian National University (ANU), collaborating with the Moritz and Cardillo labs.
I completed a postdoctoral position at the University of Michigan, at Lacey Knowles' lab, interested in the species delimitation process, linking micro and macro evolution. I did my Ph.D. at ANU, at Craig Moritz's lab. My dissertation concerned macroecological questions and landscape genomics related to lizards in savannas environments, mostly in Australia and Brazil. In my Master's (University of Brasilia, Brazil), I worked with phylogenetic diversity and habitat loss in Neotropical pitvipers. I also assisted in the preparation of the redlist of lizards and amphisbaenians of Brazil.

I am a proud member of two Brazilian women in STEM initiatives, H2H (Herpetologia segundo herpetólogas) and Rede Kunhã Asé, aiming to promote equity and value the role of Women in Science.
Any questions? Do you want to chat? Feel free to contact me by email (jehfenker@gmail.com) and follow my updates on twitter (@jehzim).
---
Jessica identifies as culturally and linguistically diverse.
Featured
Academic paper
2021
Predictors of Phylogeographic Structure among co-distributed taxa across the complex Australian Monsoonal Tropics
Academic paper
2021
Digest: Dispersal reduction drives rapid diversification in alpine grasshoppers
Academic paper
2021
Gender inequality and not female mentors hinder female scientists career outcomes
Academic paper
2021
A return-on-investment approach for prioritization of rigorous taxonomic research needed to inform responses to the biodiversity crisis
Academic paper
2021
An integrative approach to the phylogeography, historical demography and systematics of the world's smallest pythons (Pythonidae, Antaresia).
Book
2021
Herpetologia Brasileira Contemporênea - Os determinantes da diversidade biológica da herpetofauna Neotropical
Academic paper
2020
When misinterpretation leads to sexism: perspectives on gender disparity in Brazilian Herpetology.
Academic paper
2020
Diet of terrestrial anurans in an ephemeral and simplified habitat during the dry season in the Brazilian Cerrado.
Academic paper
2020
Evolutionary history of Neotropical savannas geographically concentrates species, phylogenetic and functional diversity of lizards.
Academic paper
2020
Convergence and crypsis: Integrative taxonomic revision of the Gehyra australis group (Squamata: Gekkonidae) from northern Australia.
Academic paper
2019
A new species of rock-dwelling gecko (Gekkonidae: Gehyra) from the Mt Surprise region of northern Queensland, Australia.
Academic paper
2018
Extinction risks forced by climatic change and intraspecific variation in the thermal physiology of a tropical lizard.
Academic paper
2016
In the depths of obscurity: knowledge gaps and extinction risk of Brazilian worm lizards (Squamata, Amphisbaenidae).
Academic paper
2015
Cryptic lineages and diversification of an endemic anole lizard (Squamata, Dactyloidae) of the Cerrado hotspot.
Academic paper
2014
Phylogenetic diversity, habitat loss and conservation in South American pitvipers (Crotalinae: Bothrops and Bothrocophias)
2019
ACT Bush Blitz report- Reptile group (2019)
Media article
2019
Empowering Latina scientists
Book
2018
Redbook of the endangered Brazilian fauna – volume IV- Reptiles
Book
2016
State of the Wet Tropics Report 2015-2016- Ancient, Endemic, Rare and Threatened Vertebrates of the Wet Tropics
Media article
2020
ECR feature: Jéssica Fenker (Journal of Biogegraphy)
Grant
2020
ANCLAS Research Grant, Australian National Centre for Latin American Studies ($4000 AUD) - The Australian National University
Grant
2019
Australian Biological Resources Study, International Student Travel Grant ($1500 AUD) - Department of the Environment and Energy
Grant
2019
Vice Chancellor's Higher Degree Research Travel Grant ($1500 AUD) - The Australian National University
Grant
2018
Graduate Travel Award ($500 USD) - Society for the Study of Evolution
2015
International Student PhD Research Fellowship ($184,500 AUD) - Coordenação de Aperfeiçoamento de Pessoal de Nível Superior (CAPES)
Grant
2010
Master's Student Fellowship ($28,800 BRL) - Coordenação de Aperfeiçoamento de Pessoal de Nível Superior (CAPES)
Website
Herpetologia segundo as Herpetólogas- Brazilian organisation of Women in Science
Website
Rede Kunhã Asé - Brazilian organisation of Women in Science
Academic paper
2022
Community voices: sowing, germinating, flourishing as strategies to support inclusion in STEM