In conversation with Nabilah Chowdhury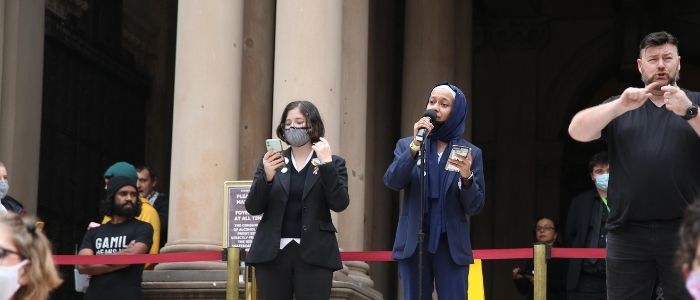 Hi Nabilah, thanks for chatting with us!
What sparked your interest in wanting to explore STEM as a field of study?
From a young age, I have always been interested in science. I have always been interested in plants and the sciences of the human body. Being able to move to Australia from the United Kingdom I had become involved in engineering programs in year 4. In my spare time, I also find myself coding and creating things using both my Aurdino and Raspberry Pi.
I have had an interest in engineering since the age of 9 I started with small things such as creating games on Scratch then going on to creating sound-powered lights. Due to this, I decided to take Engineering Challenges as an elective where I took part in many competitions such as the Science and Engineering Challenge and the Aurecon Bridge Building Competition, in which we won both and have received the STEM award in both 2018 and 2019.
My fascination for studying animals began at an early age, but after joining Taronga Zoo's YATZ (Youth at the Zoo) programme in April of 2017, it blossomed into a part of my identity. We participate in a variety of training programmes, working with the guest experience team, participating in campaigns, interacting with zoo guests, attending social nights/special events, and participating in education courses to enhance our grasp of many subjects as part of the programme. Since then, in April of 2019, I was accepted into a leadership role where I mentor fellow members, allowing me to further develop my problem-solving and leadership abilities. This programme has fueled my enthusiasm for wildlife and conservation.
Where do you hope your STEM journey might take you?
I hope I gain a place in the University Of Sydney Conservation And Wildlife degree which is partnered with Taronga Zoo to then go on to work with either the Jane Goodall Institute or Taronga Zoo
Who are some of your STEM role models?
Jane Goodall is my main inspiration for everything I do today.
Could you share 2 or 3 recommended reads or podcasts that you think would be of interest to others interested in STEM?
What would you say to other girls and young women considering a STEM journey?
Don't be disheartened; give it a shot and see what you think. You may be nervous about entering a male-dominated sector, but don't be discouraged. I really believe that you do not need to be the best student or the smartest person in the room to embark on a career in stem. Dream big and put in the effort. There are no limits to what you can do if you do so. We only have ourselves to blame for our limitations.
The National Youth Science Forum has been such an amazing experience allowing me to see STEM in a new light. It has helped me meet amazing people who have the same passion for science as me. Due to Covid there was a few changes to the program but the experience was one I will never forget.